Nutmeg State Chamber Alliance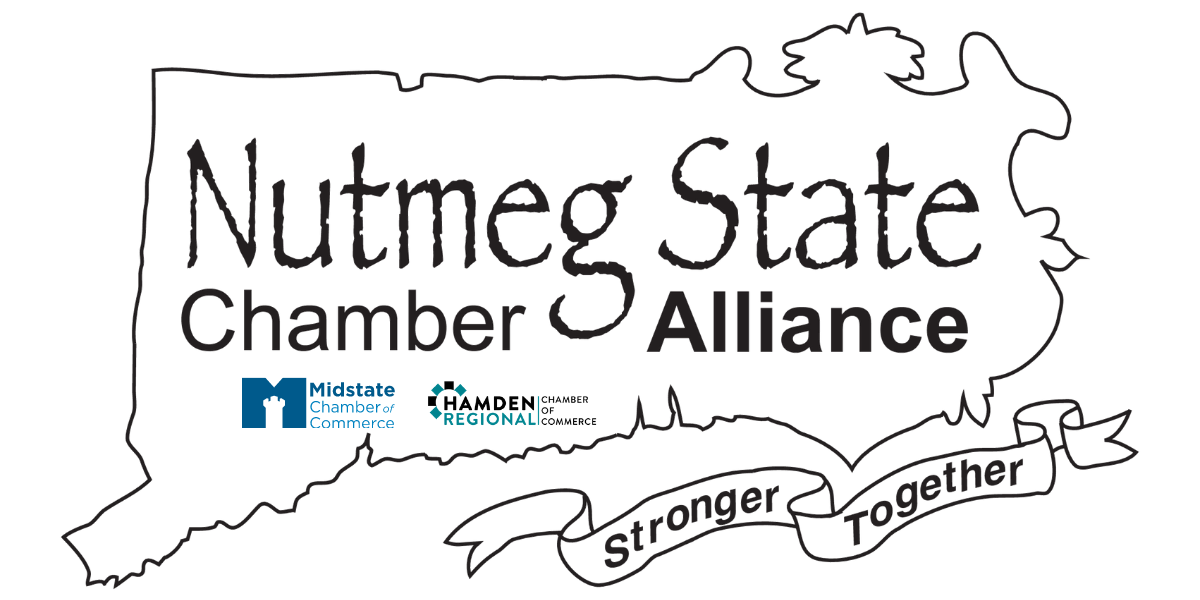 The Midstate Chamber of Commerce has created an alliance with the Hamden Regional Chamber of Commerce called the Nutmeg State Chamber Alliance. This added benefit creates an opportunity for members to join the Hamden Regional Chamber at a discounted rate, extending your visibility into another region at a lower cost. This partnership is not a merger but, rather, a deliberate and a concerted effort to expand your business' marketing reach and take advantage of another chamber at a discounted cost. Read the full press release here.
About the Partners:
The Midstate Chamber of Commerce, headquartered in Meriden, Connecticut was founded in 1896, and is the leading business membership organization in the mid-state Connecticut region with over 500 active members - growing daily! The Midstate Chamber helps businesses succeed through their program of work - with a focus on: Promotion, Advocacy, Education and Connecting our members and communities.
The Hamden Regional Chamber has been one of the region's powerful economic drivers for more than 90 years. Founded in 1925, the Hamden Regional Chamber of Commerce, now has more than 400 members and growing. The Chamber is an inclusive culture of "pay it forward" business professionals that nurtures and supports our diverse business community in Hamden and all our surrounding towns.
Key Contacts:
Rosanne Ford, President, Midstate Chamber of Commerce (203) 235-7901
Nancy Dudchik, President, Hamden Regional Chamber of Commerce (203) 288-6431
Here is a running list of members of the Midstate Chamber and Hamden Regional Chamber that are taking advantage of the dual membership offered through the NUTMEG STATE CHAMBER ALLIANCE:
Beecher & Bennett Funeral Home
Workforce Alliance
UBEO Business Services
Regency House
Accel International
ACORD, Inc.
AIEP Host Families
Alan Barberino Real Estate, LLC
Albertus Magnus College
A Little Help Never Hurts
All-N-1 Property Preservation, LLC
Always Best Care Senior Services
Always Caring of Connecticut
Area Cooperative Educational Services
Arts TV & Appliance
Assisted Living Services Inc.
Atlantic Business Supply
Atria Senior Living Larson Place
B&L Financial Architects
Bankwell
Bergvik Counseling Services, LLC
Bomb Wings & Rice Bar
Boys and Girls Club of Meriden
Bradley Home
Brand-Nu Laboratories, LLC
Cable Management LLC
Caiafa & Company, LLC
Cardinal Engineering Associates, Inc.
Clarivision
Clean Homes by Valerie LLC
Clelian Center
Coldwell Banker - Robert Clarke
Comcast Business - Berlin
Community Economic Development Fund
Community Investment Corp.
Complete Care Meriden
Comprehensive Orthopaedics
Concentra Medical Center
Connecticut Communications
Connecticut Real Estate Closing Attorneys
Connex Credit Union
Connex Marketing Inc.
Cornell Scott Hill Health Corporation
Country Flower Farms
Dexsil Corporation
E.B. Quirk, LLC - Law Office of
Elim Park
Eli's Brick Oven Pizza & Market
Eli's On Whitney
Fantarella Dental Group
Ferry, John J. & Sons, Inc.
Franklin Communities
Friends of the Meriden Public Library
Fritz and Hawley Guild Opticians
Gesmonde, Pietrosimone & Sgrignari
Goblinfish Studios
Golf Cove
GoNetspeed
Green Olive Diner
Greenberg Rhein & Margolis, Inc.
Hamden Pharmacy
Hancock's Pharmacy & Surgical, Inc.
Hartford Hospital Rehabilitation Network
HCP-Lifetime Care at Home
HearingLife
HHC Center for Healthy Aging
Hitchcock Printing & Distribution Services
Hunter's Ambulance Service, Inc.
Ion Bank
ISOE Commercial Capital
J&J Brothers
Community Works, Inc., formerly John M. Glover Insurance Agency
Joseph Conte Jewelers
Joseph McDonagh
Keller Williams - Generations Team
Keybank
LaRosa Building Group, LLC
Laser Medica Derma Centers USA
Lee Manufacturing
Liberty Bank
Litchfield Builders, Inc.
Literacy Volunteers of Greater New Haven
LM Insurance Solutions, Inc.
Lupacchino Financial
Marketing Graphics & Promotional Advertising
McDonagh, Joseph, Clu, Chfc.
MEDCO-Meriden Economic Development Corp.
MembersFirst Federal Credit Union
Meriden Adult Education
Meriden Business Park, LLC
Meriden Daffodil Festival
Meriden Dental Group
Meriden Eye Center LLC
Meriden Hyundai
Meriden Mall
Meriden YMCA
MidState ARC, Inc.
MidState Gastroenterology Specialists
Mr. Cleaning Service
MSI Mortgage
V. Nanfito Roofing & Siding
New Britain Transportation
New England Capital Financial Advisors
NQ Industries Inc.
Nutmeg Advisory Group
Nwaj Tech, LLC
Orange Insurance Center, Inc.
P & M on Whitney- Wood Fired Pizza
Partnerships Adult Day Care
Partyka Chevrolet
Pascarella Accounting Group, LLC
Post University
Press/Cuozzo Realtors
Quinnipiac University
RE/MAX Professionals - Meriden Valenti
Right At Home
Rob's Roofing
Root, Borajkiewicz, Lucarelli Wealth Advisors
Ryan Oil Company, Inc.
Salon Nathaniel LLC
Scorpion Transportation Services
Simione, Macca & Larrow
Solomon, Krupnikoff @ Wyskiel
Specialty Wire & Cord Sets, Inc.
St. Rita School
Stevens & Boutilier Financial Advisors, LLC
Suzio York Hill Companies
The Farms Country Club
The Joan Lynn Dance Company
The Pellegrino Law Firm
The Public's Adjuster
Toyota Oakdale Theatre
Travel Bug BnB, LLC
TriCircle
Ulbrich Stainless Steels & Specialty Metals, Inc.
UNAPEN, Inc.
United Way of Meriden & Wallingford
Updike, Kelly & Spellacy
The UPS Store #2233
Valentin Karate
Westaff
Women and Families Center
Zoel's Body & Auto Center