Manufacturers Advancement Series
Thank you to all who attended, our panelists, Goodwin University for sponsoring this informative event!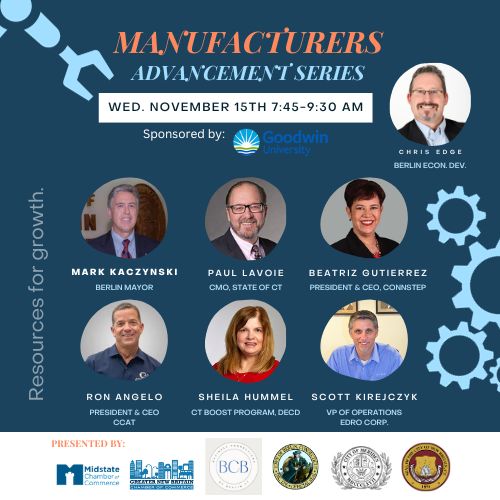 Wednesday, November 15, 2023
7:45 a.m.-9:30 a.m.
Shuttle Meadow Country Club
51 Randecker Lane, Berlin/Kensington, CT
Sponsored by Goodwin University
While National Manufacturing is celebrated in October, in CT manufacturing is to be celebrated every day. Manufacturing is a cornerstone of Connecticut's economy and we are excited to meet with local manufacturers and share state programs/resources that can help them prosper.

If you're a manufacturer and interested in networking with peers, leaders, and wondering what resources are available to advance your organization, join us for the Manufacturers Advancement Series. A morning filled with conversations pertaining to manufacturing in CT.
All manufacturing business owners and representatives are invited to the Manufacturers Advancement Series.
This program is brought to you collaboratively by the Town of Berlin, Business Connections of Berlin, the City of Meriden, the Midstate Chamber of Commerce, the City of New Britain, and the Greater New Britain Chamber of Commerce.
The panel is slated to include: CCAT - CONNSTEP - DECD Business Boost (Loan) Fund and the EDRO Corporation.
Welcome provided by Paul Lavoie, Connecticut's Chief Manufacturing Officer, and panel moderated by Chris Edge, Economic Development Director for the Town of Berlin.
Attendees can expect to learn more about programs at the state level to help you grow your business.
Doors will open at 7:45 a.m., with a light continental breakfast followed by a panel discussion starting at 8:15 a.m.
$30 per person
or