SHOP Chamber Members - SUPPORT Local Business Campaign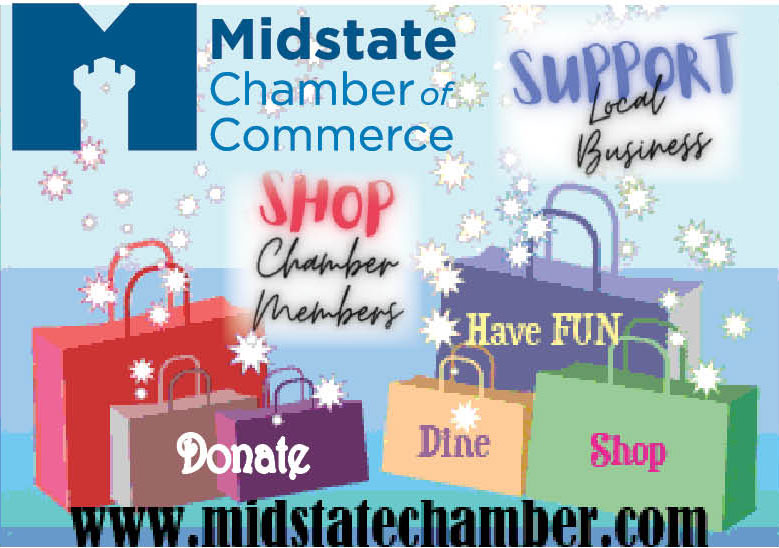 The Midstate Chamber of Commerce is launching the "Shop Chamber Members – Support Local Business" campaign to generate support for area Chamber member businesses and nonprofits.
To participate, simply shop at member businesses between November 30 and December 22 then submit your receipt(s) – minimum $25 - as an entry into a drawing to be held on December 23. Two winners will be drawn to each win a $50 Visa or Mastercard Gift Card.
A unique part of this program incorporates our non-profit Chamber members who are also struggling during the pandemic. Donate $25 minimum to any member "charity" and receive DOUBLE entries!
The most updated list of member businesses and non-profits may be found here: https://members.midstatechamber.com/Directory/
One entry per $25 spent (ex: submit a receipt for $50 and get two entries!)
Two entries per $25 donation (ex: submit a receipt for a $50 donation and get four entries!)
Submit receipts via:

email: info@midstatechamber.com or
like our Facebook page and submit receipts via messenger or
mail receipts to 546 South Broad St., Suite 2C (postmarked by 12/21) or
fax: 203.686.0172
(must include name, phone number* and email address*)
We encourage all area residents to participate.
If you own a business and are not currently a member with the Midstate Chamber of Commerce, you can join between November 30 and December 22, receive $25 off of your membership rate** and receive entries for the drawing!
For more information visit the "Shop Chamber Members – Support Local Business" page at www.midstatechamber.com. We are seeking sponsors for our next campaign (slated for the New Year through Valentine's Day) - call Rosanne Ford: 203.235.7901 or email: president@midstatechamber.com if you would like to sponsor an upcoming campaign.
*The Midstate Chamber will not sell or distribute your personal information to any business or 3rd party. The Midstate Chamber may, from time-to-time, send out exclusive promotional information from the Midstate Chamber, or our member companies, as a courtesy to contest entrants.
**Regular membership rates; not valid with any other discounts or promotions. New members only (has not been a member of the Midstate Chamber for over 1 year – 365 days).