COVID-19 - Coronavirus Updates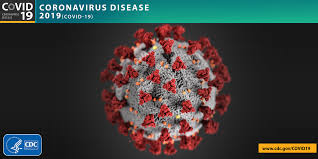 The Staff and Board of Directors of the Midstate Chamber of Commerce are here for you during this challenging time. Every facet and segment of business is being impacted by the Coronavirus pandemic - you are not alone. We operate as a small business and share your concerns. We have always been a credible and trusted source for information and we will continue to be as we all work together to move forward. We are receiving regular updates from our officials at the local, state and federal levels, and will continue to share those updates as quickly as possible...
1/9/22: *NEW* Updated CDC Quarantine & Isolation Guidelines
11/22/21 - City of Meriden NON-PROFIT COVID-19 Relief Grant Program:
*UPDATED*: SBA (Small Business Administration) Coronavirus Relief Options for Businesses - this link provides detail on PPP, loans, including EIDL, and other information.

*ALERT* CT Sexual Harassment Prevention Training deadline has been extended to February 9, 2021 - this link provides more detail on the Time's Up Act.
CT Paid Family and Medical Leave Act Info - The collection of wage deductions must begin on January 1, 2021. Payment of benefits to eligible employees will begin on January 1, 2022 - this website provides information including a schedule of webinars for employers.
*12/7/20 - Meriden Small Business COVID-19 Emergency Relief Grant Program OPENS 10/14/20 - APPLICATIONS ARE *CLOSED*

State of CT Shared Work Program - helps businesses prevent layoffs by allowing them to temporarily reduce employee hours and use partial unemployment benefits to supplement lost wages.
10/8/20: SBA & Treasury Announce NEW EZ & REVISED PPP Forgiveness Applications - In addition to revising the full forgiveness application, SBA also published a new EZ version of the forgiveness application that applies to SOME borrowers.

CBIA - CT Business & Industry Association Resources - provide guidance on a number of topics and answers to questions businesses may have.

Reopen CT | Testing Strategy and Implementation - information includes: Guiding principles for statewide testing; Expand statewide testing program; The state's reopen goals/timeline; Testing objectives and population goals
Re-Open Guidelines for Specific Sectors and Self Certification Requirements - Please note all businesses subject to these guidelines are required to self-certify prior to opening May 20th. The certification system will be online next week, and a link will be added at that time. Self Certify HERE


REGIONAL WATER AUTHORITY URGES REOPENING BUSINESSES TO FOLLOW DPH'S RETURN TO SERVICE FLUSHING GUIDANCE - Flushing internal plumbing can help remove stagnant water from buildings that have gone unused

Federal "CARES" COVID-19 Emergency Loans Small Business Guide - Checklist
Local Information: For Meriden Businesses in English & Spanish | Meriden Info | Wallingford Info | Berlin Info
State of Connecticut Business Resource Page | CT DECD: Department of Economic & Community Development | Updates and links for SBA Assistance; Filing Extensions; Unemployment Assistance
Guidance for Businesses and Employers CDC recommended guidance for employers, including advice for developing a response plan and steps that all employers can implement now.
IRS: Employee Retention Credit | designed to encourage businesses to keep employees on their payroll. The refundable tax credit is 50% of up to $10,000 in wages paid by an eligible employer whose business has been financially impacted by COVID-19 - Restrictions Apply if Other Relief is Being Received.

HOW TO APPLY for SBA Disaster Loan Assistance | VIDEO Courtesy of CEDF: Community Economic Development Fund | Additional Resources Including Articles & Podcasts
SBA Disaster Loan Assistance | Information & Application for Businesses & Non-Profits
Resources from EANE: Employers Association of New England | Webinars, Slides & More COVID-19 Tools for Businesses
NEW! Staying Healthy in Mind, Body and Spirit During a Crisis | Courtesy of Hartford Healthcare
Restrictions on Workplaces for Non-Essential Businesses. Effective on March 23, 2020 at 8:00 p.m. and through April 22, 2020: What is Essential? What Businesses are Exempt?
Responses from CT Business Survey (summary of responses from March 17-March 22): 5 Minute (or less) Business Survey - Please Complete ASAP
Pandemic Guidance | A brief outline of how to prepare before and respond during a pandemic by Ready.gov, official website of the Department of Homeland Security.
Key planning recommendations for Mass Gatherings in the context of the current COVID-19 outbreak: Interim guidance | A guide outlining key planning considerations for organizers of mass gatherings in the context of the COVID-19 outbreak, by the World Health Organization (WHO) (Feb 14, 2020)
CT Recovery Bridge Loan | To provide emergency cash flow relief to small businesses and nonprofits negatively impacted by the coronavirus, Connecticut is now offering qualifying organizations with 100 or fewer employees access to no-interest loans

. ***AS OF 3/27, DECD IS NO LONGER ACCEPTING APPLICATIONS***

CT CARES Small Business Grant Program OPENS Week of Nov. 9. ***Applications CLOSED****
TALK TO US: Call the office: 203.235.7901. Email us with your issues.